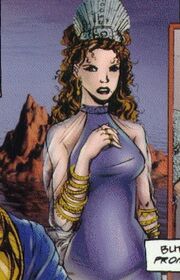 Dania was the daughter of the King
Clevis
.
Varsil
desired her and when he managed to create his masterpiece, the perfect
Food Age
to end the famine, he
named it
after her. King Clevis asked him to choose his reward; Varsil asked for Dania's hand, but the King drove him out angrily, as a commenr would not ever dare for this mockery.
[1]
References
Edit